Caviro
Leonardo da Vinci
Il Genio
Leonardo The Genius stands at the ideal juncture between thought and action.
For us, Il Genio, this genius, is a tactile and physical sensation, tangible with passion: the hand that designs the project, the hand that smooths wood, the hand that brushes the vine leaves that bask in the September sun of Vinci and Montalbano. The hand that weighs up a fine bottle, a treasure chest of ruby perfection; the land that caresses the label with the sole fulcrum of every gesture: emotion.
If we are what we do, if we are what we decide to leave to the world once we've left it, and if we live by our deeds, then we choose the precious care of each single detail in the materials, harmonious forms that dovetail perfectly together, and the profound connection between our art and the sense of beauty, unchanged even five hundred years on.
In this project of ours, you can discern Leonardo's original Study of a Hand, dating to the fifteenth century, now part of the Royal Collection at Windsor Castle.
The handsome stereotype was made to measure by Hinderer at Luxoro's request.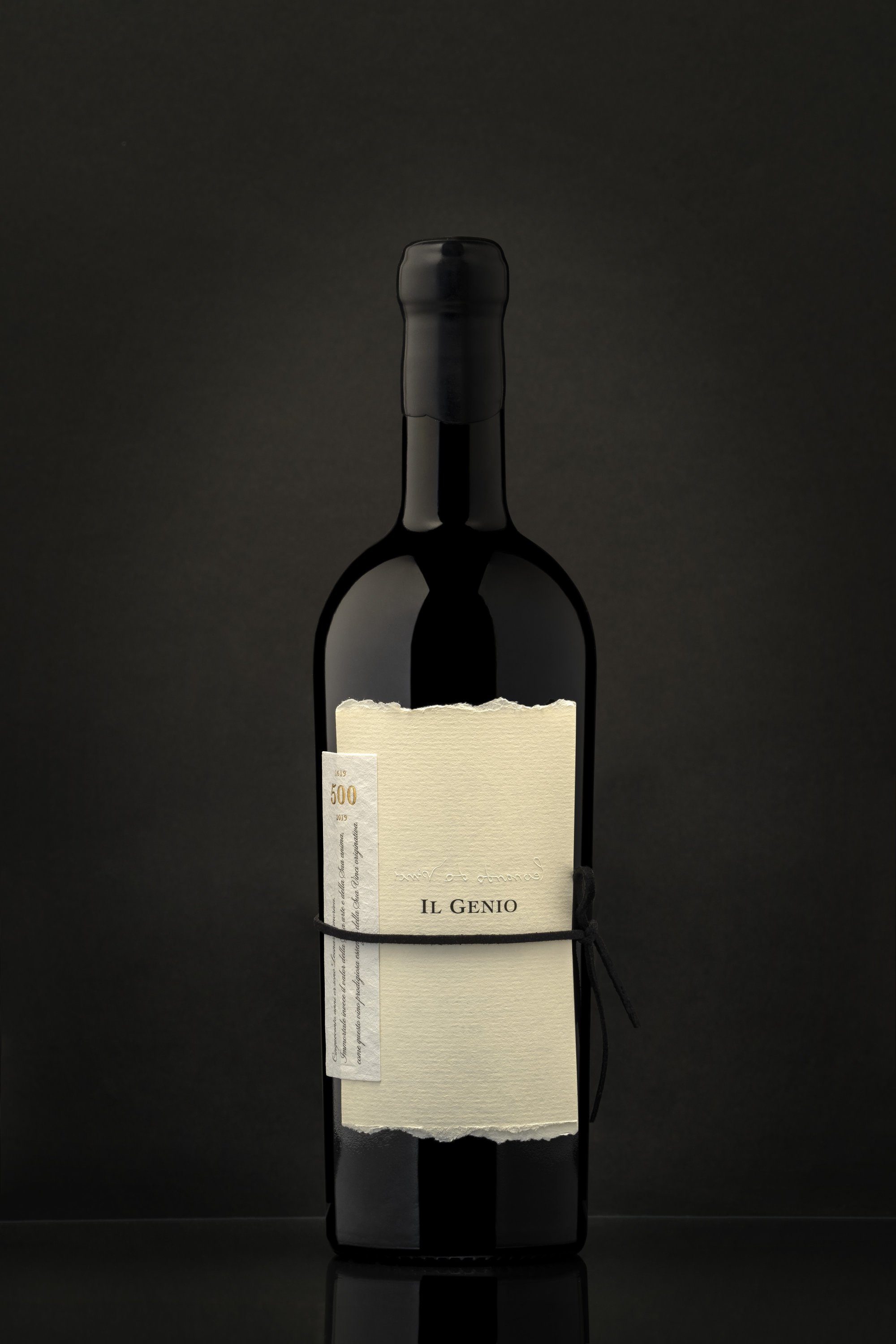 Officina Grafica is that type of creative agency that you'd love to find because it's flexible, effective and of the highest caliber. Our collaboration has built up in recent months as we realized how updating certain labels or creating brands with their help allowed us to reposition names and brands at a clearly superior label in the eyes of consumers. Classic and modern creativity, knowledge of materials, observance of design deadlines and costs in line with the quality of the work: these characteristics have made Officina Grafica a partner of primary importance for the development of our business, in Italy and internationally.
Benedetto Marescotti
Direttore Marketing Caviro
Label specs

Paper

Avery Dennison: Fibers Look
Cordenons: Chagall Camoscio

Print type

Offset, embossing, hot foil with brass cliché

Printers

MCC Labels
Number of bottles

500